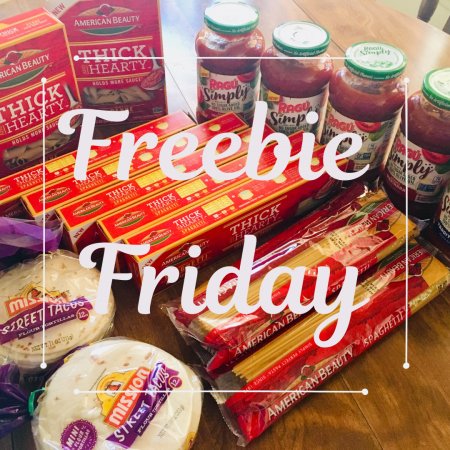 This post may contain affiliate links.
Well hello, readers! Happy Friday to you all! I've got one heck of a Freebie Friday deal for you today. How would you like to get all of this stuff for nothing?? I did, and I'll give you step-by-step instructions on how you can too!
Freebie Friday- Ragu Sauce, American Beauty Pasta, and Mission Tortillas
***At Smith's (a Kroger-affiliated store) they are currently running a sale where you buy 6 select items, and get $3 off. As part of this promotion, most American Beauty pastas will only be $0.49 per package. The Ibotta app also has rebates for both their regular and "Thick and Hearty" pastas. This amounts to $0.50 off PER BOX when you purchase them at Smith's… for a final cost of ZERO!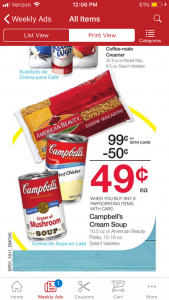 Most Ibotta rebates have a max limit of 5 items per offer (Check the fine print carefully). So in order to get this many boxes, I redeemed the offers once… then waited a few days for them to reappear in the app again.
***The tortillas were also part of the same "Buy 6, get $3 off" promotion, making them $0.99 per package. Smith's had a $1 off coupon in their "Live Naturally" magazine. (I found mine up near the front of the store, in the same place they had a stack of their weekly print ad) So, of course, FREE again!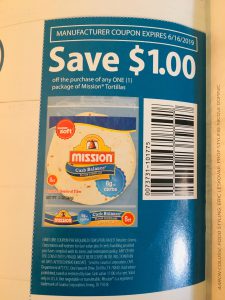 ***And finally, Target has a Cartwheel app offer for 25% off Ragu Simply pasta sauce right now… combine that with an Ibotta offer for $0.75 back per jar (when you buy at Target), AND a rebate on Checkout51 for any Ragu sauce. Mine ended up being absolutely FREE!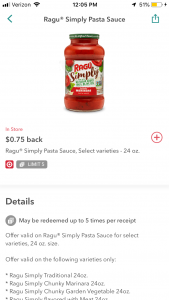 And that's how I totally scored on this Freebie Friday! Also, something to keep in mind, if you don't see yourself needing this stuff at your house… these are great items for donating to your local shelter or food bank! Happy saving, friends!