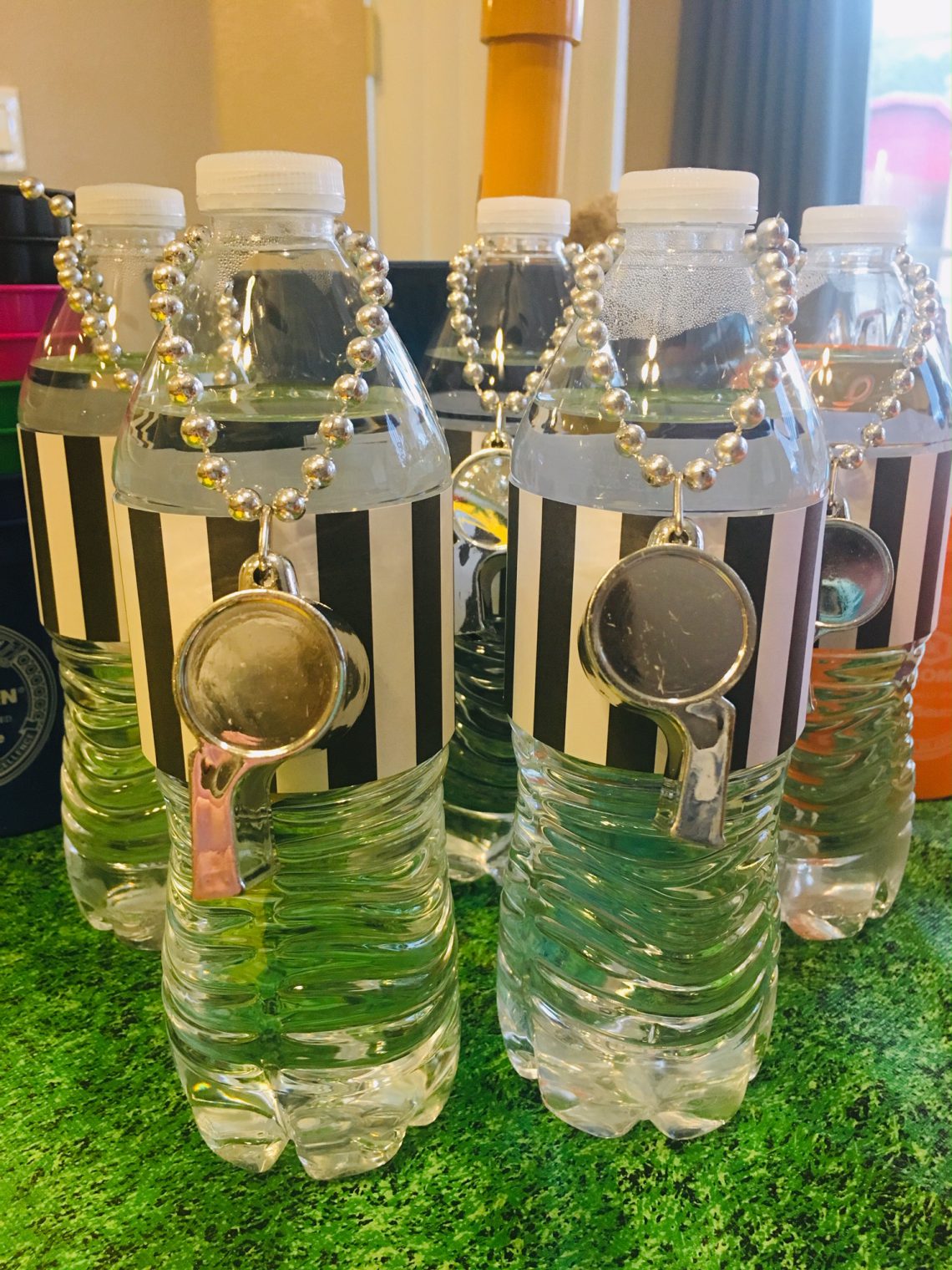 Easy DIY: Referee Drink Bottles
This post contains some affiliate links. This means that if you ultimately end up purchasing something through these links, I may receive a small commission, at no extra cost to you. But, as always, I try to only link to things I personally use and enjoy myself. Thanks for your support of The Crafty Cat Company!
Referee drink bottles are the perfect way to add a creative touch to the drink offerings at your next sports party! So often, the focus is on the food, activities, and other decor, that beverages are often an afterthought… but not anymore! I couldn't believe how many guests loved these things!
And the best part is, these cute referee drink bottles can work for multiple kinds of parties and events… Super Bowl/football (which is what I made mine for!), hockey, basketball, etc. Plus, they're very quick and easy to make, and only require a few supplies. Not to mention, they can be adapted to just about any kind of bottled beverage! Here's what you'll need to make them:
Supplies:
-Bottles of your favorite beverage (I used water, but this would also work with Gatorade/Powerade, bottled soda, even beer!)
-12″ ruler
-Scissors
-Clear adhesive tape
-Pencil
-Black and white striped paper (I used this one from Michaels. I was able to get about 6 labels out of one 12×12″ sheet of paper, but yours may differ, depending on what size bottles you're trying to cover… so keep this in mind when deciding how many sheets of paper to buy.)
-Whistles (I got mine from Party City. They also come in a bunch of different colors, if you're trying to match your favorite team!)
Step 1: Remove preexisting labels from whatever bottles you're using. (You don't HAVE to do this, but odds are good that they'll show through the striped paper if you don't.)
Step 2: Measure the bottles and determine how tall you want your referee labels to be. (Mine were about 2 inches high, but this will change depending on the size of your bottles, as well as personal preference.) Making sure the stripes on the paper are going vertically, mark the paper in desired increments and cut out labels with scissors, as shown below. Repeat until you have enough labels to cover all bottles.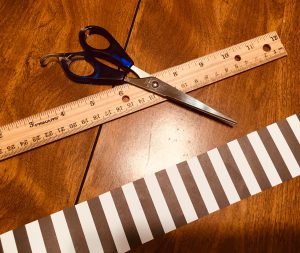 Step 3: Wrap striped paper label around bottle, securing with a small piece of tape at beginning and end of paper. Overlap is fine, but you may trim to size, if you wish. Repeat until all bottles are covered.
Step 4: If necessary, trim whistle lanyard/string/beads to desired shorter length, and tie off ends in a knot. (The strands of beads my whistles came on were very long, and I didn't want a bunch of excess overhang, so I cut the beads until they were just long enough to fit around the bottle.)
Step 5: Drape a whistle around the neck of each bottle. That's it, you're done!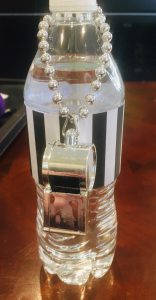 And there you have it, referee drink bottles! One of the easiest ways to jazz up your next sports-related event! Go make some right now!!