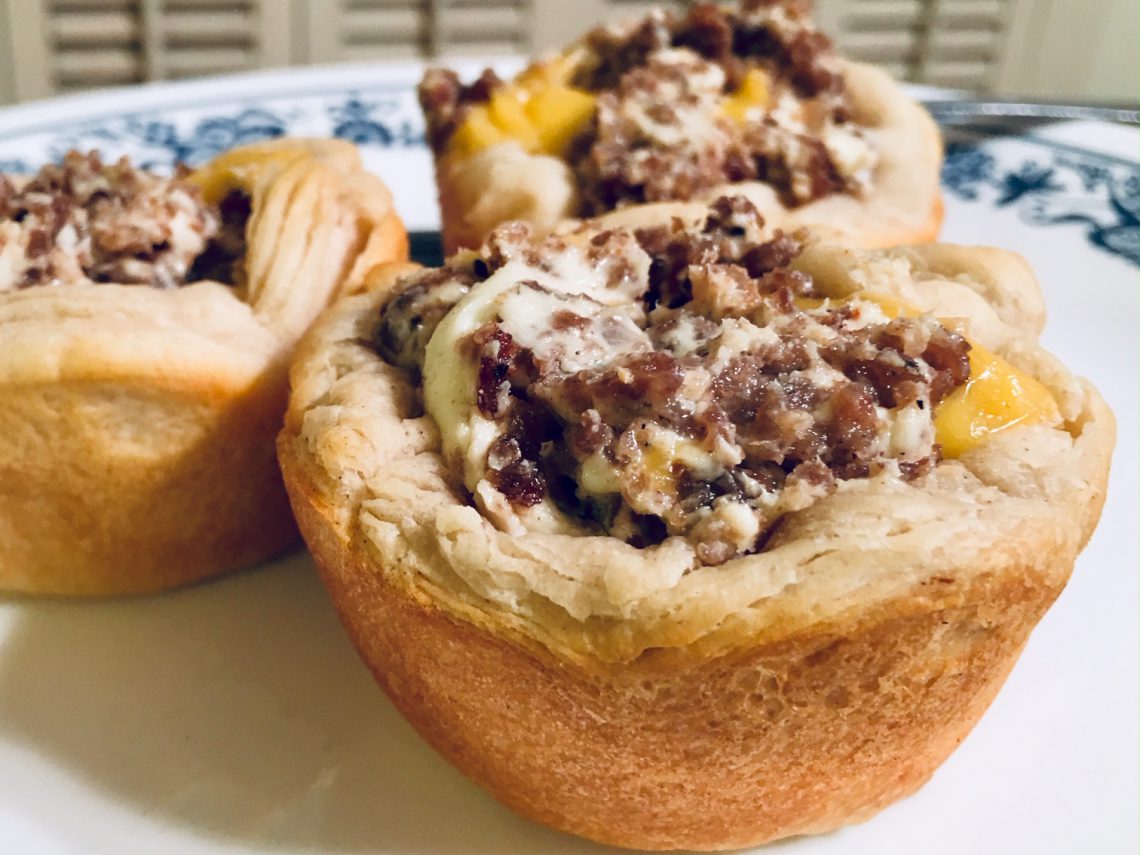 Sausage-Cream Cheese Biscuit Bites (Only 5 Ingredients!)
Have you ever seen a recipe that looked SO DELICIOUS that you immediately got into your car, drove to the store, purchased the necessary ingredients, and made it right away?
I don't think I ever have… until I saw a recipe video on Pinterest for these Sausage-Cream Cheese Biscuit Bites. And let me tell you, when I actually bit into one of these puppies, I was NOT disappointed. Flaky, buttery biscuit dough+smooth cream cheese+sharp, flavorful cheddar+zesty sausage… what's not to love?!
Obviously, these would be perfect as part of a hearty breakfast, but could also serve as a great party appetizer too. The original recipe calls for making them in mini muffin tins, resulting in a very large batch of bites. However, seeing as how I was only making them for myself, I decided to experiment a little and make them in regular-size muffin pans, and they turned out great!
Oh… and you only need 5 ingredients too! So not only were they tasty, but also uncomplicated to make- a win in my book! Without further ado, here's how you make Sausage-Cream Cheese Biscuit Bites:
(Recipe adapted from original at plainchicken.com)
Ingredients
(Makes 16 bites)
-1 (8-ct.) tube of Pillsbury Flaky Layers biscuit dough
-16 oz. package of mild pork sausage
-1 cup shredded sharp cheddar cheese (I used sliced cheddar for this batch, since I needed to use it up. Just tear into small pieces.)
-8 oz. plain cream cheese (preferably at room temperature)
-Ground black pepper, to taste
Step 1: Preheat oven to 375 degrees. Spray muffin pans lightly with non-stick cooking spray and set aside.
Step 2: Cook sausage thoroughly according to package instructions, breaking into small pieces. Drain fat, and place sausage into large mixing bowl.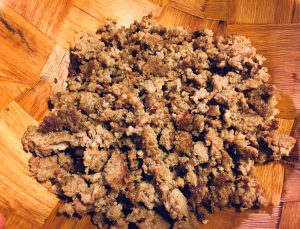 Step 3: Add cream cheese, cheddar, and pepper to the sausage. Mix well until ingredients are combined. Set aside.
Step 4: Open can of biscuits, and split each individual biscuit in half, as shown. You should end up with two identical round, thinner biscuits. Place a biscuit half in each muffin tin compartment, flattening slightly and pressing partially up the sides. Repeat until all biscuits are used… you should end up with 16 total.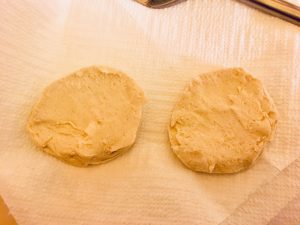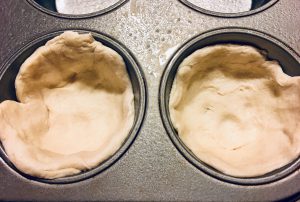 Step 5: Equally divide all of the sausage/cheese mixture between biscuit cups, using a spoon or ice cream/cookie scoop.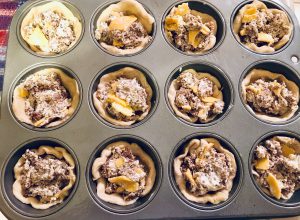 Step 6: Place muffin tins in oven and bake for 12-14 minutes, until outside of biscuit cups are golden brown.
There you have it, Sausage-Cream Cheese Biscuit Bites! I hope you enjoy them as much as I did!