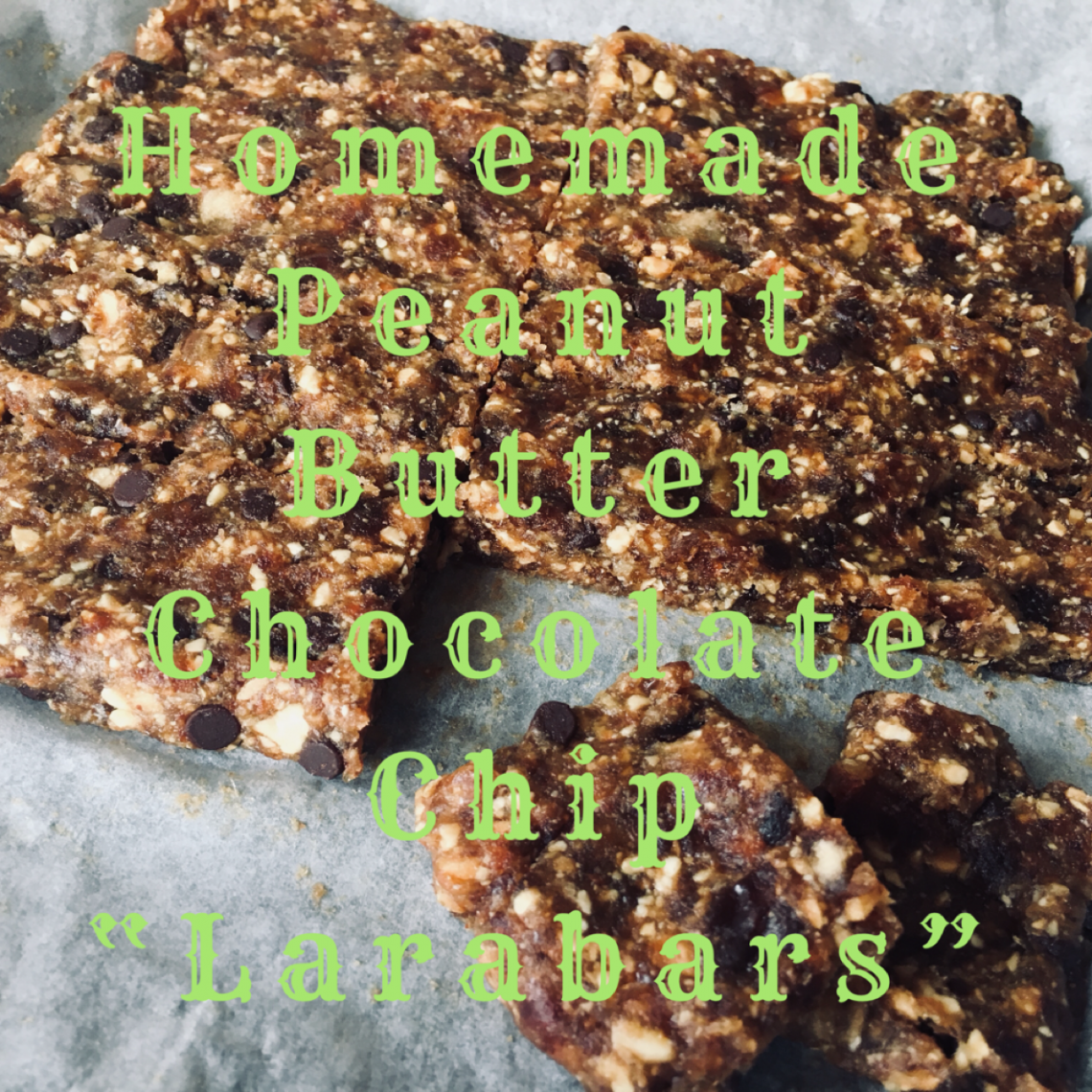 Homemade Peanut Butter Chocolate Chip "Larabars"
Mmm…. Larabars.
Made of only a few simple, (mostly) healthy ingredients, they're a better alternative to stuffing your face with junky candy bars. Larabars satisfy that craving for something sweet, gooey, delicious, and in this case, chocolatey, without leaving you with feelings of guilt, shame, or remorse. You know you're getting real food, without all the extra unnecessary additives and processed crap.
However, one thing Larabars are not is cheap. You usually pay around $5 for a box of only 5 small bars.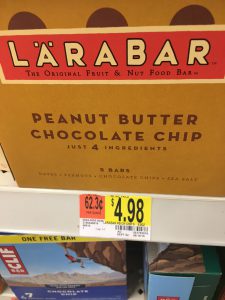 Which means, if you're a real sucker for the things like many of us are, or you have an entire family who loves them, that box will disappear in no time. So they're not exactly a budget-friendly everyday snack for most people, unfortunately. Wouldn't it be nice if there was a way to indulge your passion for Larabars, but do it without spending a fortune?
There is!
Behold: this delicious recipe for Homemade Peanut Butter and Chocolate Chip Larabars.
Seriously, this one is a real winner. Tastes very similar to the real deal, but is a WAY better value. I spent a little over $5 for the ingredients to make a batch, and wound up with 10 bars.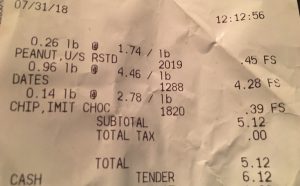 That's twice the deliciousness for the same amount of money! At that rate, you can afford to make these knockoff Larabars a frequent part of your snacking rotation, if you so desire.
The peanut butter/chocolate chip is my favorite flavor of the name-brand product, so that's what I decided to make for this recipe. I also was able to get exactly the amount I needed for one batch by buying my (3!) ingredients (excluding the salt) at the bulk foods section of WinCo. Especially when trying a new recipe, or one with unfamiliar or unusual ingredients, this is the way to go. (See my post about this here) Although, I have a feeling that after trying this recipe, you'll be making them on a pretty regular basis!
Here's what you'll need:
-1 lb. dates, pitted
-2/3 cup unsalted, roasted peanuts
-1/4 cup mini chocolate chips
-1/4 tsp. sea salt
In a food processor, pulse peanuts until finely chopped. If the pieces are slightly irregular in size, that's okay. Just don't go too far and make a paste.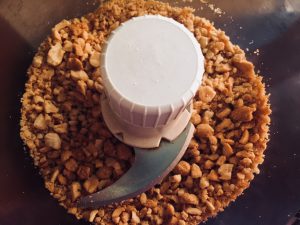 Once nuts are chopped, add the pitted dates and salt, then continue to pulse just until mixture is beginning to form into one big lump.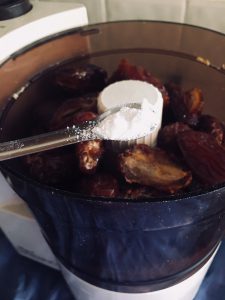 Add the chocolate chips and pulse a few more times, or until chocolate is well mixed throughout.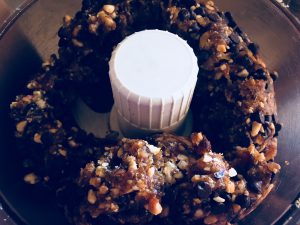 In a 8×8″ square baking pan lined with parchment paper or plastic wrap, dump blended mixture and press down firmly and in an even layer, moistening your fingertips with water if necessary to prevent sticking.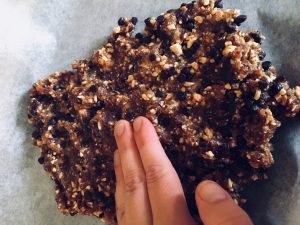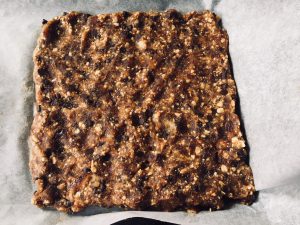 Place pan in refrigerator for at least 1-2 hours, in order to allow the bars to firm up a little and make them easier to cut.Once the hour is up, remove pan from fridge and lift out your square of "dough", using the edges of the parchment/plastic wrap. Cut mixture into 10 equally-sized bars.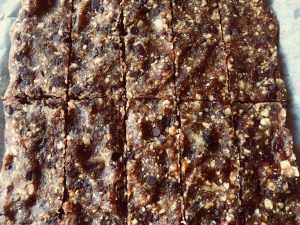 Store in refrigerator either in an airtight container, or individually wrapped in plastic wrap.
Try not to eat the whole batch by yourself in one sitting!