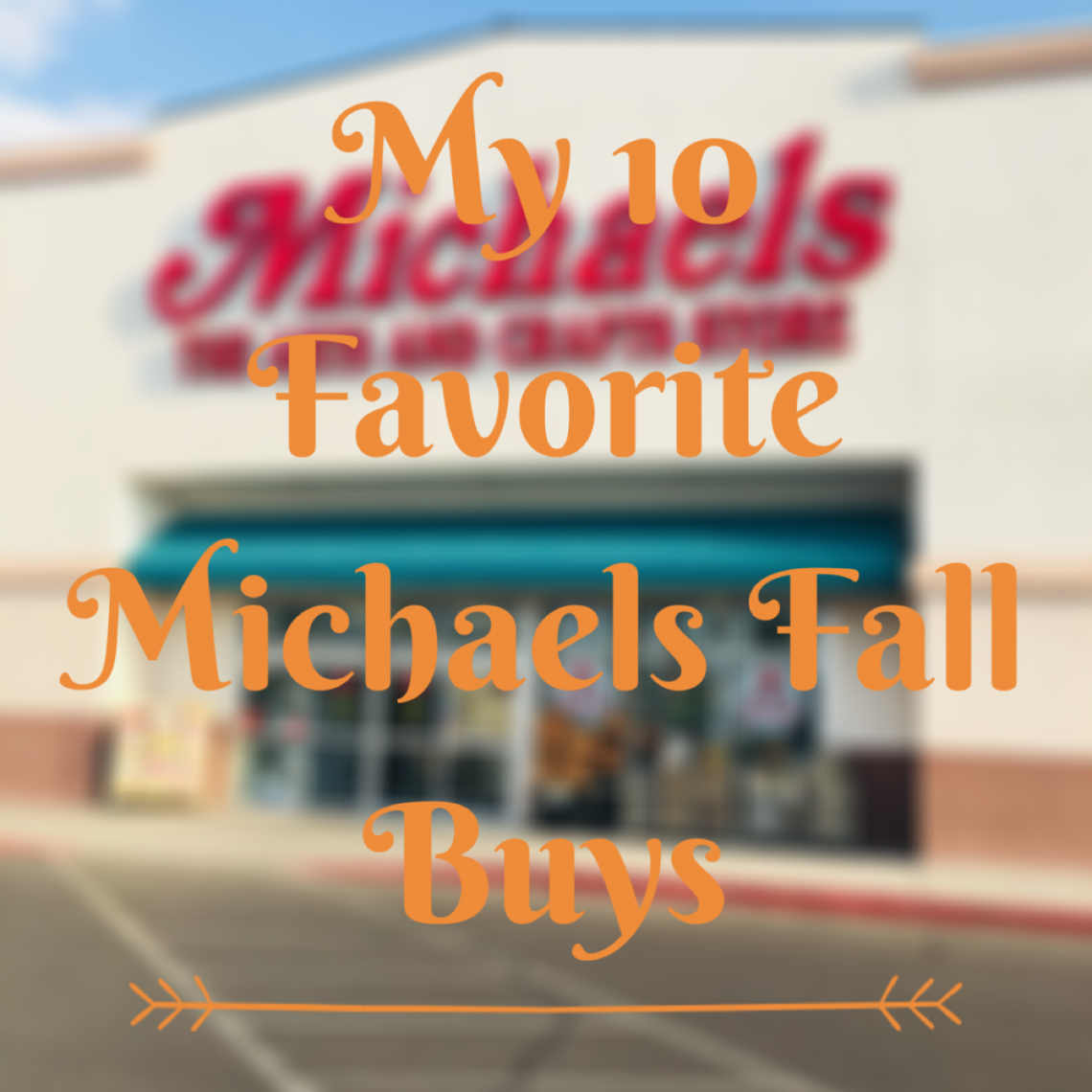 My 10 Favorite Michaels Fall Buys
Disclaimer: This post contains affiliate links. I MAY receive compensation for any purchases you make via these links, but as always, any thoughts and opinions expressed here are solely my own. Thanks for supporting The Crafty Cat Company!
Michaels is probably my favorite store in the whole world. No exaggeration. They have just about everything imaginable for making crafts of all kinds. It's like heaven on earth for creative people, myself included. I could wander the aisles there for hours, drawing inspiration from everything around me. Plus, they always have sales going on, and coupons available too.
Psst, quick side note: do yourself a favor and join the Michaels Rewards program and download the store's app. This will save you SO MUCH MONEY. They keep you posted on all the sales, and show what coupons are available… sometimes including ones exclusive to Rewards members. And there are always coupons. Don't pay full price if you don't have to! Okay, back to your regularly scheduled post…
As hard as it is to believe, (especially in Vegas where it's still 100+ degrees outside), fall is fast approaching and will be here before we know it. And, true to form, the retailers are ahead of the game, already displaying the relevant seasonal merchandise.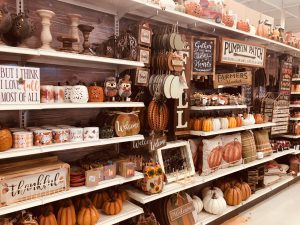 It can seem strange to be browsing the aisles amongst skeletons and scarecrows and then stepping foot outside the store and sweating your butt off. But at least it gives you the opportunity to plan ahead for your autumn decorating, right?
So in order to hopefully give you a little inspiration, I've come up with a list of my 10 Favorite Michaels Fall Buys!
1. General Store Decor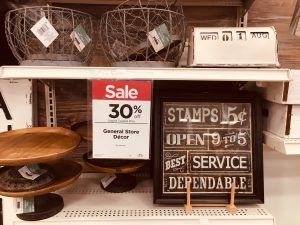 Farmhouse-style decor is all the rage these days, if television shows and Pinterest, in particular, are any indication. Michaels has a new fall collection of rustic, antique-style "General Store" decor that can form the foundation of your farmhouse scheme, or add a subtle accent touch to a more modern home.
There are so many cute pieces in this collection, and while they would look great paired with autumn items, they are pretty neutral and can be very easily adapted to any season. Makes for a great buy!
2. Harvest Collection Wood Crates
Michaels carries a whole Harvest Collection line of products, but these small wood crates are particularly cute. The images are based on retro produce and gardening advertisements and seed packets, which I've always thought were very appealing. In addition to the pumpkin crates, they have others featuring sunflowers, apples, and cows/milk.
3. Fall Floral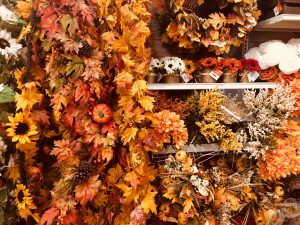 The fall floral at Michaels consists of everything from individual artificial flower stems, bouquets, and picks, to wreaths, garlands, and potted plants. Useful for either indoor or outdoor decor, the foliage can shine all on its own, or as part of larger crafted pieces.
And of course, since they're artificial, the floral elements can be reused for many years to come if properly taken care of. Fresh flowers are not cheap, so this is a great way to save lots of money… especially since it seems like florals are almost always on sale at Michaels too!
4. Glass Containers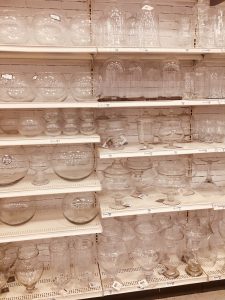 You name a type of glass container, Michaels probably has it… from basic vases, to Mason jars, wine bottles, bowls, and everything in between. You can use these things for so many different types of crafting and floral arranging, the possibilities are almost endless.
But what if you also need a hundred candle holders or 25 nice glass apothecary jars for your upcoming fall wedding? Surely that's more than any store would have on hand, and who wants to stop at 10 different places to get what you need? Not to fear, Michaels has you covered!
One of the best services they offer is bulk ordering online. You can have everything sent right to your front door, no hustling from store to store required!
5. Straw Bales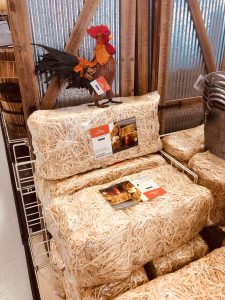 This one's pretty simple… straw bales are a cute and easy way to add that perfect fall/harvest-time touch to both indoor and outdoor decor. There are plenty of ways you can use them as Halloween accents as well… which brings me to my next must-have…
6. Halloween Decor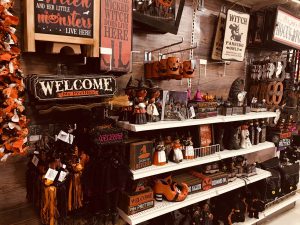 Oh, Halloween.
The holiday that's all about costumes, creativity, and spooky decorations is probably the #1 reason to shop at Michaels this fall, in my opinion. I love strolling though the aisles at this time of year, gathering inspiration from my surroundings and planning what I want to buy.
Halloween decor is extensive and varied here, ranging from mild and cutesy smiling pumpkins and black cats, to the more macabre and creepy… think huge hairy spiders, life-size fake snakes, and bloody body parts. It's nice that they offer such a variety of options to cater to differing preferences and tastes.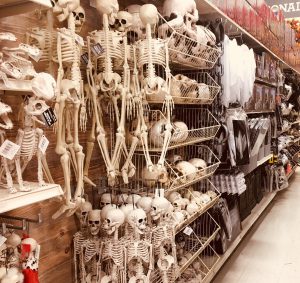 I think my favorite Halloween item overall is these skeletons. I especially love browsing Pinterest for ideas on how to pose these in unusual or funny ways, especially outside as part of a scene in the front yard.
7. Lemax Spooky Town Collection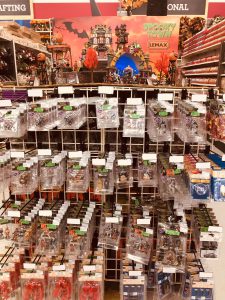 I'm basically obsessed with Lemax's Christmas Village buildings and accessories. They are, hands-down, my favorite Christmas decorating item. And chances are, you've seen these miniatures for sale at various places during the holidays, since they've been around for decades. But did you know that Michaels now also carries a Halloween-themed Lemax collection?
There are stationary lighted buildings, animated ones that move and play music, as well as figurines, accessories, landscape, and lighting pieces for sale… all making for a potential home display that is cute, as well as spooky!
Lemax products across the board are generally high-quality collector's items, making them a very worthwhile investment! Michaels also frequently has them on sale in the weeks and months leading up to Halloween.
8. Large Wooden Crates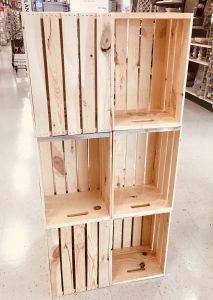 Another decor item that has seen an explosion of popularity in recent years, these wood crates are a perfect blank slate on which you can apply any number of painting, staining, and finishing techniques.
They can be used in a purely decorative context along with other small pieces and floral elements, or as a functional storage item in pretty much any room of your home. Many people even connect a bunch of crates together in varying configuration to build large shelving units!
9. Feathered Friends
Michaels has a variety of decorative bird accents… owls, roosters, and black crows are just some of the options available. Some are more unique interpretations, and made with unusual materials. Others are more realistic-looking and made with actual feathers. Either way, they're a great addition to your fall/Halloween decor!
10. Pumpkins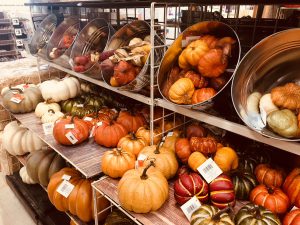 Just looking at a pumpkin can evoke images of crisp fall air, changing leaves, trick-or-treaters circling the block, and pie on Thanksgiving. They're the quintessential fall decor item.
But unlike the real thing, the artificial pumpkins at Michaels won't rot prematurely, or cost you a fortune down at the yearly neighborhood pumpkin patch. And the best thing is, you can reuse these ones year after year!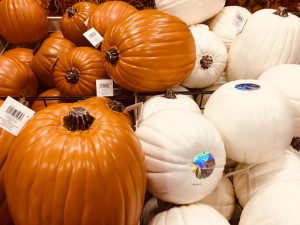 There are a wide variety of gourds available, from large craft pumpkins that are made especially for carving or painting, to smaller variety bags of mini pumpkins and squash- perfect for grouping with candles and fall florals to create a beautiful tablescape. You can even find decorative pumpkins made of ceramic and cloth too. So many options out there for you to choose from!
Just reading this list makes me excited for fall!  These are my favorite Michaels fall buys, What are yours?