4 Money-Saving Apps You Need to Download Today!
There are thousands of applications (apps, for short) for just about everything these days… music, games, sports, social media, the list goes on and on. And granted, many of these apps are great for keeping in touch with far-flung friends and family, or keeping yourself busy while you're waiting in line at the post office. But are they truly valuable? Not so much. However, there is another kind of app, one that tends to get overlooked- the kind that can save you money! Which, for most of us, is something we can always use more of.
Here's a quick roundup of 4 FREE money-saving apps that I think are worth making room for on your devices:
 Freeosk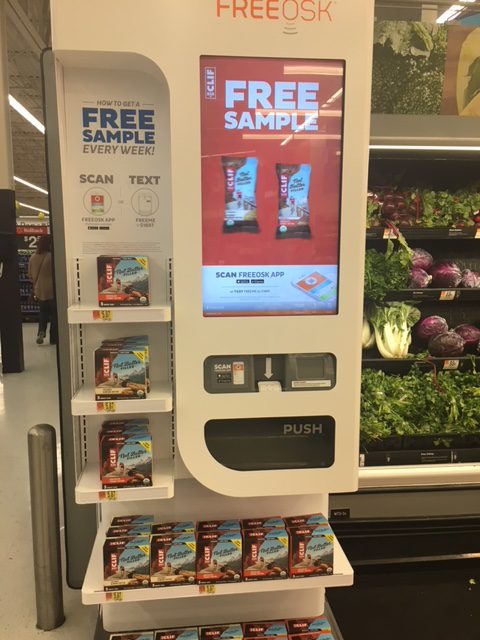 You may have already seen these kiosks in your local grocery, big-box, or membership club store and wondered what they were all about. Once you have the Freeosk app downloaded, you can walk right up to the in-store machine, scan the QR code displayed on your phone, and in a few seconds, get a free sample of select health and beauty, cleaning, or food items! In my experience, they aren't skimpy-sized samples either. The last time I tried it, the Clif bar I got actually appeared to be a full-sized product. And if you decide that you really enjoy your experience, the store usually has the larger-sized packages of the product in question displayed right next to the machine, available for you to purchase.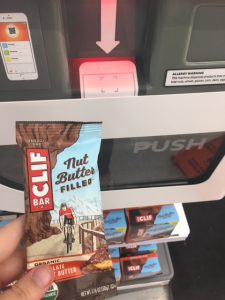 The whole Freeosk app/kiosk experience is pretty simple and straightforward, and if for some reason your code won't scan, there a few options to manually enter a series of letters and/or numbers on the kiosk's keyboard in order to ensure you still receive your sample. One of the other cool features of the app is that you can look to see where the closest Freeosk locations are, and which products exactly that they're giving away. The samples being given away seem to change every few weeks and vary by location, so visit their website to learn more! https://www.thefreeosk.com/
Receipt Hog
Do you have a bunch of receipts just sitting around wasting space? Put them to good use and earn yourself an Amazon gift card, or better yet, a cash payment directly to your PayPal account!
The concept is simple: Grab your receipt (which must be from the past 14 days) and take a snapshot of it, with the in-app camera.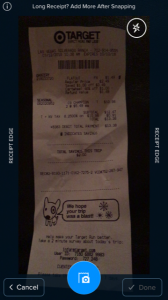 Receipt Hog does the rest of the work, including gathering the name of the retailer and amount of the transaction. Depending on what kind of retailer or restaurant your receipt is from, (and they can be from almost anywhere!), and what the dollar amount is, you earn a certain amount of "coins" towards a gift card or cash!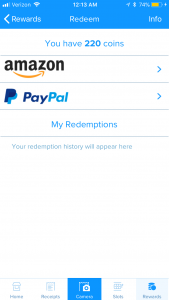 The app is super easy to use, and keeps track of everything for you… which makes it hard to find an excuse to not download and put it to use right away!
Visit https://receipthog.com/
Shopkick
Want to earn points (aka, "kicks") towards a gift card from your favorite store, all while you're already there shopping? The Shopkick app gives you a list of dozens of participating retailers in the area, and once you select the one you're currently at, you can earn kicks for picking up and scanning the barcodes of certain items throughout that store with your phone.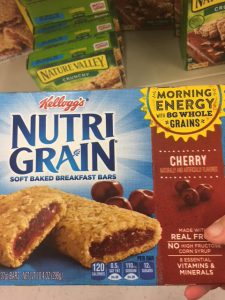 And if you then go on to purchase that product and scan the receipt, you can earn a much larger amount of kicks.In some cases, you even earn kicks just for walking in the door of the place. It's like a fun scavenger hunt that, in the end, earns you money!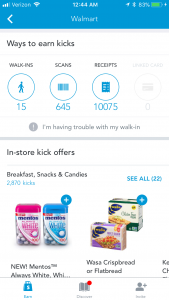 During one quick trip to Walmart, I made several dollars towards a gift card just by scanning items with my phone as I was already doing my shopping! They also have options for online shopping too, which is even more reason to give Shopkick a try! Use my referral code when you sign up to get 250 free kicks: KICK751969  https://www.shopkick.com/
IBotta
We've saved the best for last… seriously, if you're only going to download one money-saving app, make it this one!
With Ibotta, there's no fussing with paper coupons or promo codes… just check the app before you go shopping, pick which deals you want to use and add them to your list in the app.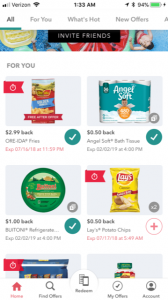 After you're done shopping, scan your receipt OR link your store loyalty card, and your cash-back deals are added to your running total. Once you've accrued the minimum $20 amount, you can cash out via PayPal, Venmo, or with a gift card to your favorite retailer!
The awesome thing about Ibotta is that you can hit that threshold pretty quickly, as you can see from this next page, just one item can earn you $1 or more cash back!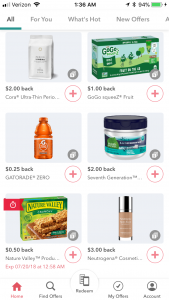 You can even use it with certain other apps and online retailers too! Use my referral link and earn a huge welcome bonus when you join today: https://ibotta.com/r/lcmyxgy
What other money-saving apps are must-haves on your devices? Let me know!